Bio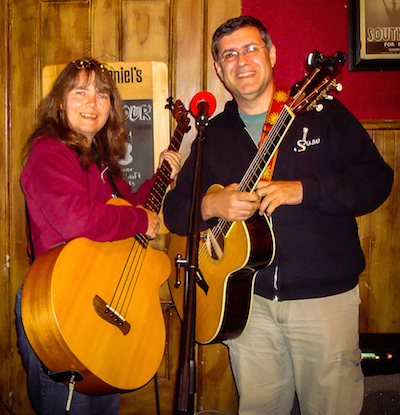 Dan was raised in New York City and the Berkshire Hills of western Massachusetts. He's been singing as long as he can remember. Though he took piano and french horn as a child, those never really held attraction. The singing tradition of Camp Taconic, where Dan spent many summers, exposed him to the music of the folk scene of the 1960s and 1970s, as camp counselors brought those songs with them.
On moving back to New York, Dan became a member of the Manhattan Borough-wide chorus, and later the New York All City Chorus and Concert Choir. It was at All City where he worked under the direction of John Motley.
Faith was raised in Cooperstown, NY. She played piano from an early age and played as accompanist for school shows and concerts, and sang in the school choir. She took to acting in school and in college.
The two met at Rensselaer Polytechnic Institute while students. Professional life led them away from music for over 20 years. A song writing workshop series with Maura and Pete Kennedy brought them back to their musical roots. To play the songs they write, Dan picked up guitar, and later harmonica and banjo; Faith picked up mandolin, later added bass guitar, mandola and dulcimer to her talents.
Festivals, Contests and Showcases
Singer-Songwriter Cape May – Showcase artists 2015, 2016, 2017
Mid-Atlantic Song Contest – Finalist 2016
Boston Greenfest – Artists 2016
Top 16 Albums of 2016 – The Folk Revival – WICN Radio